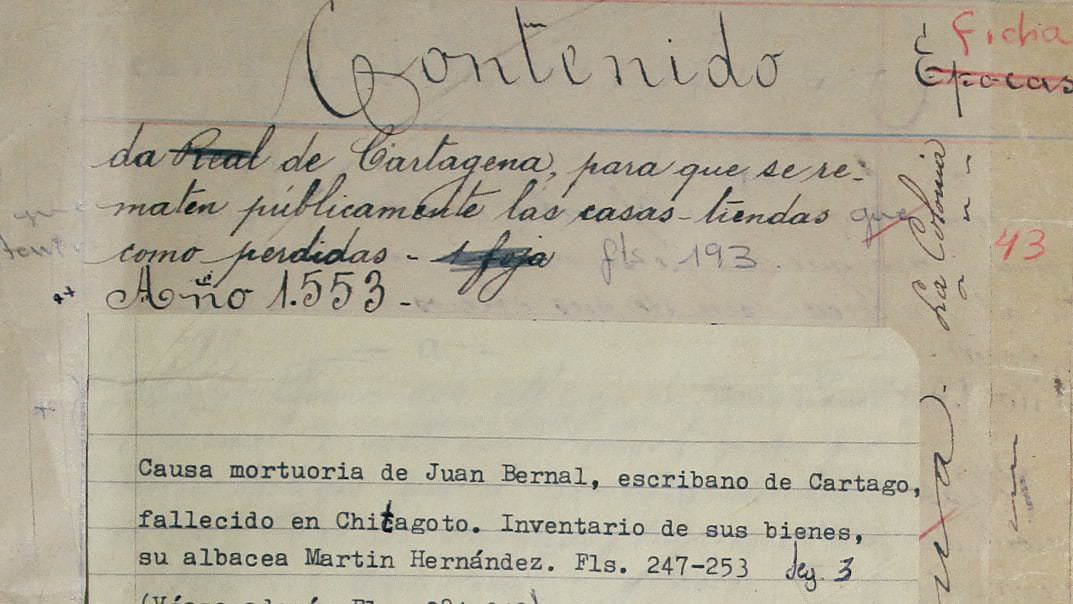 The Catálogo Colectivo de Archivos Colombianos is one of the projects under the aegis of Neogranadina. It seeks to create a large collective catalog of the historical documents that are kept in archives, libraries, and other institutions in Colombia openly, collaboratively, freely, and sustainably. The CCAC consists of two parts: a technological base and technical support.

The technological base
Firstly, this puts at the disposal, in a completely free manner, a sophisticated digital platform for managing catalogs and archival descriptions based on international standards of the description of archival materials and its metadata. We use free software for this, principally a web application called AtoM ("Access to Memory"), which is built around the description standards of theInternational Council of Archives: ISAD(G) for documents, ISAAR(CFP) for registers of authorities and ISDIAH to register those same archival institutions. These are the same standards that the Archivo General de la Nación de Colombia uses, and that have been adopted identically (IDT) by the Instituto Colombiano de Normas Técnicas y Certificación (ICONTEC).
Our system allows each institution to conserve and manage its own catalogs and metadata independently. Members of each institution can incorporate their own catalogs, descriptions, and existing records, and create new ones directly in the platform. Therefore, researchers and other users who wish to explore the catalogs of each institution can do so directly in the platform before arriving to consult materials, without needing to use paper catalogs, download excel tables, or worry about whether the catalogs they have found are up-to-date. It is possible to perform complex searches, filter material by dates, categories, and themes, and find new ways of accessing historical documents. At the same time, each institution can decide the level of access that it wants to give to external users, for example, restricting access to drafts or records in the process of being updated by its members and employees. We believe that this has an enormous potential to facilitate the work of archivists, researchers, professors, and students.
One of the main advantages of the Collective Catalog is that it groups catalogs that would otherwise be consulted separately. By being part of the same platform, the catalogs and records of different institutions can be constructed, explored, and consulted as though they were one. Therefore, it is possible for example that a researcher could follow the tracks of a single person who appears in materials kept in different institutions, separated by long distances, or see a list of all the wills of the 1630s that mention mantas or textiles in archives all over the country without needing to consult the catalogs of individual archives one by one in their physical or digital formats. It also means that an archivist can refer to a standard taxonomy of document typologies, elements of description, "points of access" (key words, subjects, issues), and authorities at the moment of creating a new entry. In Neogranadina we strongly believe that by all acting together we can do more: that the total is greater than the sum of its parts. Therefore we want to invite every institution that looks after historical documents in Colombia to participate in this project and create a "multirepository" collective for everyone.
The human element
As well as technological tools, we offer consultancy and technical support to the institutions who participate in the project, building on our trajectory as leaders of mass digitization and systematization of archival collections in Colombia, our collective experience as researchers and academics, and the help of our allies and collaborators in the archives and libraries at an international level. Moreover, we want to use this project to create new fora to contribute to connecting the community of archivists and librarians of the country so that we can all help each other.
In practical terms, we help participating archives transfer their existing catalogs (including digitizing paper catalogs) to digital formats structured according to the international standards ISAD(G) and ISAAR(CFP). We also train their members and employees to use these standards and digital platforms so that they can get the most out of them.
Finally, we also offer support to archives that need it to develop their own catalogs. One of the projects that has gained international recognition for Neogranadina is the Catalogación Colaborativa, which connects researchers and students with collections of uncataloged archives. Therefore, students and researchers gain access to archives and experience in paleography and cataloging and, in doing so, help describe the material they consult. We have a growing community of volunteers at the national and international level for this, composed of professional archivists, researchers, professors, students, and the general public, who contribute their time and effort to improve the descriptions included in the platform.
We are starting with one of the archives that we have worked with to digitize for a number of years: the Archivo Histórico Regional de Boyacá in Tunja. In order to incorporate its materials into CCAC, we are transferring and systematizing a wide variety of existing catalogs — from paper records made in the 1920s (as can be seen in the image above) to digital catalogs created more recently — and creating new records for materials that have not been cataloged until now.
A free and open platform
We make our platform available absolutely freely. We will never charge the institutions who use our platform to manage their catalogs, or users of the platform for consulting it. There are absolutely no subscriptions, membership charges, or fees at all.
This has been one of the foundational principles of Neogranadina, a non-profit organization, whose mission is precisely to help safeguard and publicize the historical documents of Colombia using new technologies. In order to fulfill this mission we have had the good fortune of having the technical and financial support of various universities and institutions, among others the University of California, Santa Barbara, whose servers maintain the platform.
At the same time, we are respectful and careful with intellectual property. The origin of all the data that are integrated into the platform is registered, and the platform always gives complete credit to the author and editors of the data it contains. The moral rights and those of the author of all the entries remain with their authors. Equally, the data can always be exported from the platform in a wide variety of open formats — from databases and spreadsheets to print versions in PDF format. Our intention is to make a platform that is free in every sense.
What does this have to do with digitization?
Neogranadina has another project la digitalización del patrimonio documental and its publication in our digital archive. This project and that one are connected in part, but they are independent projects.
In order to be able to carry out the digitization in an efficient and systematic way, it is very useful to systematize and normalize catalogs and archival descriptions, and this is something that is absolutely essential to be able to publish the digital versions in our virtual archive. We have also carried out the digitization of different paper catalogs, both manuscript and printed, to facilitate the extraction of this information and incorporate it into our system.
However, it is not necessary to digitize or integrate the materials whose catalogs and registers we include in the Collective Catalog into our digital archive. We want to offer all institutions who look after historical documents to participate in the CCAC, not only those whose materials we help to digitize.
To sum up, our catalog is collective because it collects information about different archives in Colombia, because it is completely public and free, and because it is built in a collaborative way.
We invite any archives and repositories who are interested in working with use to get in contact.
---
We will soon publish the trial version (beta) of the CCAC with the first entries. In the meantime,
you can also see the development version (alpha) of our system.
---
This project was supported in part by the University of California Office of the President MRPI funding MR-15-328710.